Restaurant Irodion & Greek Specialities KOS
Immerse yourself in the world of Greek culture and mentality and allow yourself to be pampered by our wide range of Greek specialities – at the Kos during the day and at the Irodion in the evening.
We have selected traditional recipes and prepare our dishes with only the best and freshest ingredients and typical herbs of Greek cuisine. We want to delight our guests with a large range of delicious creations.
Both at the Irodion and at the Kos, you'll encounter naturalness, Mediterranean ambience and Greek hospitality in the very heart of Waldkirchen. By the way: all our food cooked at the Irodion and the Kos is also available as take away.
Konstantinos Dimos & Reza Koshdel and their team look foward to your visit!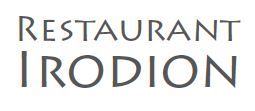 opening hours
Tue – Sat: 5.30 p.m. – 11 p.m.
Sun 11.30 a.m. – 2 p.m. and 5.30 p.m. – 11 p.m.
closed on Mondays
seats
inside: 105 seats

opening hours
Mon – Sat 11 a.m. – 8.30 p.m.
closed on Sundays and public holidays
seats
inside: 20 seats
outside: 12 seats
This might be also of interest to you: